Most meetings scheduled at the Atlantic Club in West OC are taking place in-person at this time, in accordance with Mayor Hogan's guidelines. Other groups are slowly reopening in-person meetings. Please visit the Meetings Page for the latest updates. Here are useful guidelines sent by Maryland General Service about 12 Steps to Safely Reopen Meetings and Contact Tracing.
Some area groups have set up online meetings. If your Home Group is doing this, please email the details to info@ocaa.org and we will post it so others can join in. Here's some guidance on how to set up a remote meeting with Google Hangout, Zoom or FreeConferenceCall.
Listed below are some Virtual Meetings taking place now in the Ocean City Intergroup:
Monday
Tuesday
Wednesday
Thursday
Friday
Saturday 
Sunday
Intergroups outside of Area 29 are also maintaining lists of online meetings:
 Baltimore
Hagerstown
Mid Shore
Northeast Maryland
Southern Maryland
West Central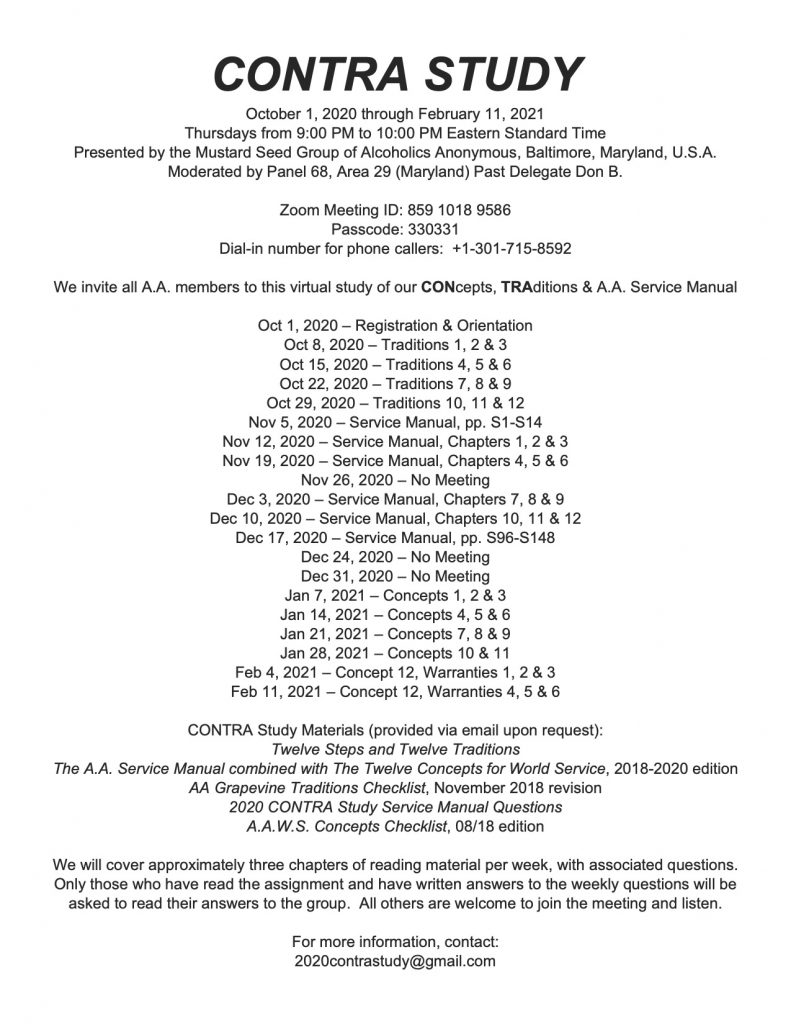 Online Meeting Resources: with the statewide orders to limit in-person gatherings, many of us are experiencing online, virtual, or dial-in meetings for the first time. Please keep in mind that not everyone has online access from their home and consider ways to include those alcoholics in your virtual meetings! I want to highlight a few resources that we've run across which might be generally helpful as you participate in or host online or dial-in meetings:
Baltimore Intergroup Updates on Virtual Meetings (Anonymity, 7th Tradition, etc.)
Protecting Anonymity in Zoom Meetings:
Personal Anonymity in Zoom Meetings:
Managing Attendees in Zoom Meetings:
How to Move an AA Meeting Online in Five Simple Steps:
Setting Up a Remote Meeting:
Suggested Best Practices for a Digital Seventh Tradition:
AA Grapevine Available Free: the 2020 digital editions of AA Grapevine,as well as the audio versions, are available free online at: https://www.aagrapevine.org/we-are-here-to-help.